Environmental Impact: Comparing Industries – Kit Contents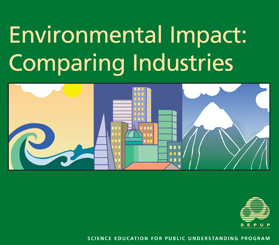 Kit Contents
For replacement parts to SEPUP kits, visit Lab-Aids.
Scroll down to see the materials that are included in the Environmental Impact: Comparing Industries kit as well as those materials that are required but not included.
---
Materials in equipment kit
16 SEPUP filter funnels
16 stir sticks
16 droppers
16 measuring scoops (white)
16 30-mL graduated cups
40 aluminum foil squares
1 9-oz plastic cup
1 piece of copper wire
2 pieces of:
8 30-mL bottles of:

labeled water (empty)
copper (II) chloride (50,000 ppm copper)

8 60-mL bottles of:

sodium sulfate (0.6 M)
sulfuric acid (0.5 M)

8 120-mL bottles of:

hydrochloric acid (0.5 M)

8 vials of:

calcite (crushed)
malachite (crushed)
iron powder
CaCl2
CaSO4
NaCl

200 filter paper circles (#615 grade)
Materials required but not provided in equipment kit
1 overhead projector
1 package of index cards (or self-stick note paper)
16 SEPUP trays
1 class set of safety goggles
1 250 mL (or larger) beaker (for collecting liquid waste)
paper towels
1 supply of alcohol (ethanol or methanol)
2 watch glasses (or crucibles)
matches (or a lighter)
1 class set of calculators (optional)
For replacement parts to SEPUP kits, check our Catalog.