Investigating Food Safety – Kit Contents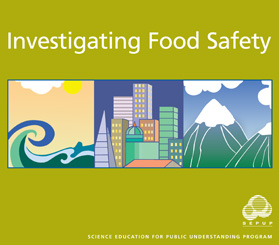 Equipment Kit Contents
Scroll down to see the materials that are included in the Investigating Food Safety kit as well as those materials that are required but not included.
---
Materials in Investigating Food Safety equipment kit
16 stir sticks
16 30-mL graduated cups
16 droppers
16 bottles of dilute iodine with droppers
8 empty 30-mL bottles, labeled "Ascorbic Acid, 10%"
8 30-mL dropper bottles of:
sodium benzoate solution
sodium carbonate solution
vinegar
distilled water
20% starch solution
pesticide test solution: 2,000 ppm iron (III) nitrate
2 vials containing 25 grams solid ascorbic acid
2 packets of lemon drink mix
1 2-lb. bag of baker's rapid rise yeast
1 bag of dried apricots preserved using sulfur dioxide
1 bag of dried apricots preserved without using sulfur dioxide
1 roll of plastic wrap
1 bag of dried black-eyed peas containing approximately 400 peas
1 180-mL bottle of 0.1 M potassium iodide solution
1 240-mL bottle for preparation of ascorbic acid stock solution
16 plastic knives
16 copies of the Additives List
32 9-oz. plastic cups
200 packets of sugar
Materials required but not provided in equipment kit:
16 SEPUP trays
16 pairs of safety goggles
2-10 bananas, medium-sized
1 knife
1 large container (for soaking peas)
2 large pitchers (or other 1 liter containers) with at least one lid
1 long-handled spoon
1 100-mL graduated cylinder
1 overhead projector
1 pair of scissors
access to warm water
labels or empty boxes of various processed foods
paper towels
transparency pens
1 thermometer (optional)
4 coverslips (optional)
4 microscopes (optional)
4 microscope slides (optional)
For replacement parts to SEPUP kits, check our Catalog.