SGI: Student Activity Links Third Edition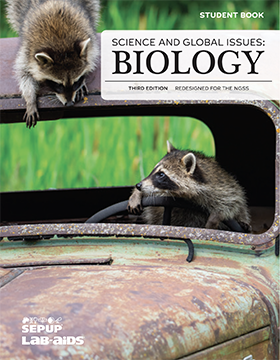 Science & Global Issues Student Links
Select any unit below:
Sustainability: Changing Human Impact
Ecology: Living on Earth
Cells: Improving Global Health
Genetics: Feeding the World
Evolution: Managing Change
Link to Science as a Human Endeavor Student Resource Page
---
Sustainability: Changing Human Impact
Activity 1: Changing Landscapes (Extension)
Tree Cover Changes in American South
Activity 2: Measuring Human Impact (Engineering Extension)
Digital Innovations to Improve Soil Health
Natural Resource Management and Technology
Technology: The Future of Agriculture
Ecology: Living on Earth
Activity 1: Establishing a Baseline
Wild Rice Quadrat Sampling Simulation
Climate Change Threatens Wild Rice
Activity 2: Population Growth Models
Population Dynamics Simulation
Activity 3: Factors Affecting Population Size
eBird Essentials: A new world of birding
It's Black Birders Week. Here are 7 leaders to follow online
New group seeks to bring diversity to birding
Activity 4: Scaling Up: Ecosystems
Study Identifies Whale Blow Microbiome
Bacteria Help Corals Survive When They Get Into Hot Water?
Activity 5: Patterns of Biological Diversity
Mapping the World's Biodiversity
Activity 8: Life in the Dark
How Giant Tube Worms Survive at Hydrothermal Vents | I Contain Multitudes
Activity 9: Modeling Energy Flow in Ecosystems
J-Pod returns to Salish Sea after 'unprecedented' 108-day absence – Victoria Times Colonist
Activity 12: Rebalancing the Equation?
Extension Re: Carbon Emissions and COVID Pandemic
Temporary reduction in daily global CO2 emissions during the COVID-19 forced confinement | Nature Climate Change
COVID-19 caused the biggest drop in carbon emissions ever – how can we make it last? Podcast
Biggest carbon dioxide drop: Real-time data show COVID-19's massive impact on global emissions — ScienceDaily
Plunge in carbon emissions from lockdowns will not slow climate change
Extension Re: Engineering and Addressing Climate Change
What is Climate Engineering? | Union of Concerned Scientists
Can Engineering Change Our Climate for the Better? Part 1 – ASME
Geoengineer the Planet? More Scientists Now Say It Must Be an Option – Yale E360Worlds
Biggest Carbon Removal Machine
Activity 14: The Great Lakes Ecosystem
Great Lakes Research Links
The Story
Asian Carp: Threats to the Lower Great Lakes and St. Lawrence River?
Asian carp: how one fish could ruin the Great Lakes
Asian Carp in the Great Lakes
Great Lakes Invasive Species: 180 and Counting
Great Lakes Fishery Commission – Asian Carp
Asian Carp & the Great Lakes
What would happen to the ecosystem?
New Study Finds Asian Carp Threat to Lake Michigan Is Greater Than Previously Thought
Asian Carp Would Have Adequate Food to Survive in Lake Michigan
Asian carp have never breached a body of freshwater the size of Lake Michigan. Here's the bizarre way they could survive and thrive in the world's fifth largest lake.
Invasive carp fueled by mussel poop could spread across Lake Michigan
Asian carp may cause Lake Erie fish to decline
Facts About Invasive Bighead and Silver Carps
Detection and mitigation efforts (including cost)
Asian carp DNA found in Lake Calumet, only 7 miles from Lake Michigan
Asian Carp Risk Assessment : Great Lakes Region
Great Lakes Fishery Commission Eforum
Asian Carp Control
Keeping Asian carp out of the Great Lakes will cost billions and take decades
Stopping Asian Carp
Assessment of Asian carp in Illinois waterways
Economic impact on Fisheries
Socio-Economic Impact of the Presence of Asian Carp in the Great Lakes Basin
Great Lakes Fishery Commission – The Fishery
Asian Carp and the Great Lakes Region
Extension
Carp Advance
Facial Technology will move good fishes over levies, and stop Asian Carp from getting into the Great Lakes
Sailing Drones Collect Data for Great Lakes Fishery Research | US Geological Survey
Evaluating Websites
Activity 15: Overfishing: Is Aquaculture a Solution?
Extension
Aquaponics | Alternative Farming Systems Information Center | NAL | USDA
Hooked on Aquaponics | USDA
Classroom Aquaponics Instructional Video
Classroom Aquaponics System (small-scale)
Activity 16: Sustainable Fisheries Case Studies
Population Dynamics Simulation – Logistic Growth Model

Cells: Improving Global Health
Activity 3: Homeostasis Disrupted
Extension 2
Blood Pressure and Homeostasis
Immune Response and Homeostasis
Activity 6: Specialized Cells and Disease
Extension 1
SEPUP Simulation: What Do Specialized Cells Do?
Extension 2
Activity 7: Medical Treatment and Homeostasis
Extension
Understanding How COVID-19 Vaccines Work
U.S. CDC (Centers for Disease Control and Prevention): COVID-19 COVID-19 Science Updates
U.S. National Institutes of Health: COVID-19 News and Stories
World Health Organization: Coronavirus disease (COVID-19) pandemic
Activity 9: Global Nutrition
Procedure Step 5
Procedure Step 9
Extension
John Hopkins University's Center for a Livable Future: The Connections between Diet, People, and Planet
Activity 13: Feeding the World's Population
Columbia University's Earth Institute: How climate change will alter our food
Food and Agricultural Organization (FAO) of the United Nations: The State of Food Security and Nutrition in the World
U.S. EPA (Environmental Protection Agency): Climate Impacts on Agriculture and Food Supply
Activity 15: Energy for Life
SEPUP Simulation: Photosynthesis and Cellular Respiration Simulation

Genetics: Feeding the World
Activity 1: Superweeds: Where Did They Come From? (Extension)
Will Rising Temperatures Make Superweeds Even Stronger?
International Survey of Herbicide Resistant Weeds
Australia Might Have the Answer to Herbicide Resistant Superweeds

Activity 2: Creating Genetically Modified Bacteria (Engineering Extension)
First Genetically Modified Mosquitoes Released in the United States
The U.S.'s First Open-Air Gentically Modified Mosquitoes Have Taken Flight
CDC Information Sheet: Genetically Modified Mosquitoes

Activity 3: Mitosis and Asexual Reproduction
SEPUP Simulation: Mitosis and Meiosis
Click on the link above to go to the Mitosis and Meiosis simulation.
Activity 7: Protein Synthesis: Transcription and Translation
SEPUP Simulation: Protein Synthesis
Click on the link above to go to the Protein Synthesis simulation.
mRNA Vaccines–A New Era in Vaccinology
Understanding mRNA COVID Vaccines
Activity 8: Cell Differentiation and Gene Expression (Extension)
Human Genome is Much More than Just Genes
Activity 11: Meiosis and Sexual Reproduction
SEPUP Simulation: Mitosis and Meiosis
Click on the link above to go to the Mitosis and Meiosis simulation.
Activity 13: Which Plant is Genetically Modified (Extension)
Polymerase Chain Reaction (PCR) Fact Sheet
Polymerase Chain Reaction (PCR)
Understanding COVID-19 PCR Testing

Activity 15: Benefits and Trade-offs of Genetically Modified Organisms (Engineering Extension)
A Gene-Editing Experiment Lets Those Patients with Vision Loss See Color Again
Three People with Inherited Diseases Successfully Treated with CRISPR
Can CRISPR Cure Sickle Cell Disease


Evolution: Managing Change
Activity 1: Changing Environments
Extension: The effects of El Niño on human evolution
Newly discovered African 'climate seesaw' drove human evolution
How El Niño climate phenomena helped create humanity
Paleo-ENSO influence on African environments and early modern humans
Activity 4: Genetic Diversity
Cystic Fibrosis/Tuberculosis Simulation
Extension: Engineering Connection: how genetic engineering is being used to treat Cystic Fibrosis
Gene Editing for Cystic Fibrosis
Gene therapy could offer an inclusive cure for cystic fibrosis
New CRISPR/Cas9 technique corrects cystic fibrosis in cultured human stem cells
Activity 6: Increasing Time Scales
Extension 1: the phylogeny and evolution of Anole species
Anole Speciation Video
– Download
– Streaming
Caribbean lizards show that evolution repeats itself
Lookalike Lizards and the Predictability of Evolution
Extension 2: Continuing evolution of Anoles
Rapid evolution of a native species following invasion by a congener
Florida Lizards Show that Evolutionary Change can be Rapid
Exploring Evolution to Predict Future Biodiversity
Activity 8: The Anthropocene
Are We Living in the Sixth Extinction?
Video from PBS (9 minutes)
Sixth Mass Extinction In Earth's History Underway; Scientists Say Humans To Blame
Secondary Source, The Weather Channel
18 signs we're in the middle of a 6th mass extinction
Secondary Source, Business Insider
Sixth Mass Extinction of Wildlife Accelerating- Study
Secondary Source, Earth.org
Earth Is Not in the Midst of a Sixth Mass Extinction
Secondary Source, The Atlantic
Accelerated modern human–induced species losses: Entering the sixth mass extinction
Primary Source, Science Advances
Vertebrates on the brink as indicators of biological annihilation and the sixth mass extinction
Primary Source, Proceedings of the National Academy of Sciences
Extension
Four Species That Went Extinct This Century Because of Forest Loss
Activity 9: Evidence and the Theory of Evolution
Evidence Supporting Biological Evolution
Activity 11: The Evolution of Resistance
How Did Resistance Evolve?
Extension: Engineering Connection
Activity 14: Mitigating Change