Chemical Reactions: Teacher Links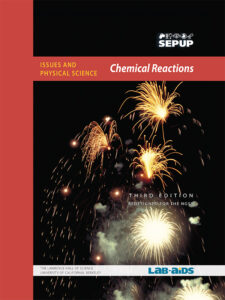 Third Edition
Reactions unit is part of SEPUP's Issues and Science three-year Middle School program. Each unit of the program incorporates science and engineering concepts and practices with current issues.
---
Reactions
Learning Pathway Diagrams for this unit:
MS-PS1-2, MS-PS1-5, MS-PS1-6, MS-ETS1-2, MS-ETS1-3, MS-ETS1-4

Activity 1
Producing Circuit Boards
Drinking Water Requirements for State and Public Water Systems: Lead and Copper Rule
This website by the U.S Environmental Protection Agency provides basic information about copper and lead in drinking water.
State Legislation—Electronics Takeback Program
This site compares electronic waste recycling and disposal regulations across the United States.
Activity 12
Recovering the Copper
The London Metal Exchange
Current Primary and Metal Scrap Prices can be found here.