Investigating Wastewater: Solutions and Pollution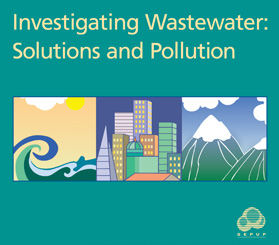 This module focuses on concepts such as solubility, precipitation, acids, and bases. Students are introduced to a scenario involving wastewater disposal into a local lake. They make mixtures, investigate solutions, and neutralize acids and bases. They begin to identify the properties of water that make it such a useful solvent. Students then design and test a plan to treat acidic wastewater. They are assessed on their ability to design and conduct investigations.
Each module includes a Teacher's Guide containing reproducible student pages and a kit containing the equipment required to conduct the activities with five classes of 32 students. The Teacher's Guide provides specific strategies to facilitate and assess student learning.
---
Overview
Shown below is the table of contents for the teacher's guide, which contains reproducible student pages.
Introduction
Module at a Glance
Guide to the Module
Activity 1: Investigating Mixtures
Student Investigation: Making Mixtures
Activity 2: Investigating Solutions
Student Investigation: Does it Dissolve?
Activity 3: Reproducibility and Proper Use of Laboratory Equipment
Student Investigation: A Drop in the Bucket
Activity 4: Comparing Solubility
Student Investigation: Dissolving Duel
Activity 5: Parts Per Million
Student Investigation: Now You See It, Now You Don't
Activity 6: Identifying Acid and Base Solutions
Student Investigation: Colorful Classification
Activity 7: Diluting Acids and Bases
Student Investigation: Water It Down!
Activity 8: Acid-Base Neutralization
Student Investigation: Neutralize This!
Activity 9: Removing Dissolved Substances from a Solution
Student Investigation: Sinking Solids
Activity 10: Treating the Acme Wastewater
Student Investigation: Cleaning the Acme Wastewater
Appendix A: Materials
Appendix B: Background
Appendix C: Assessment
Appendix D: Glossary